The Del Mar track saw protests after an unusually high number of deaths this year. But that runs against a general trend, and answers are hard to come by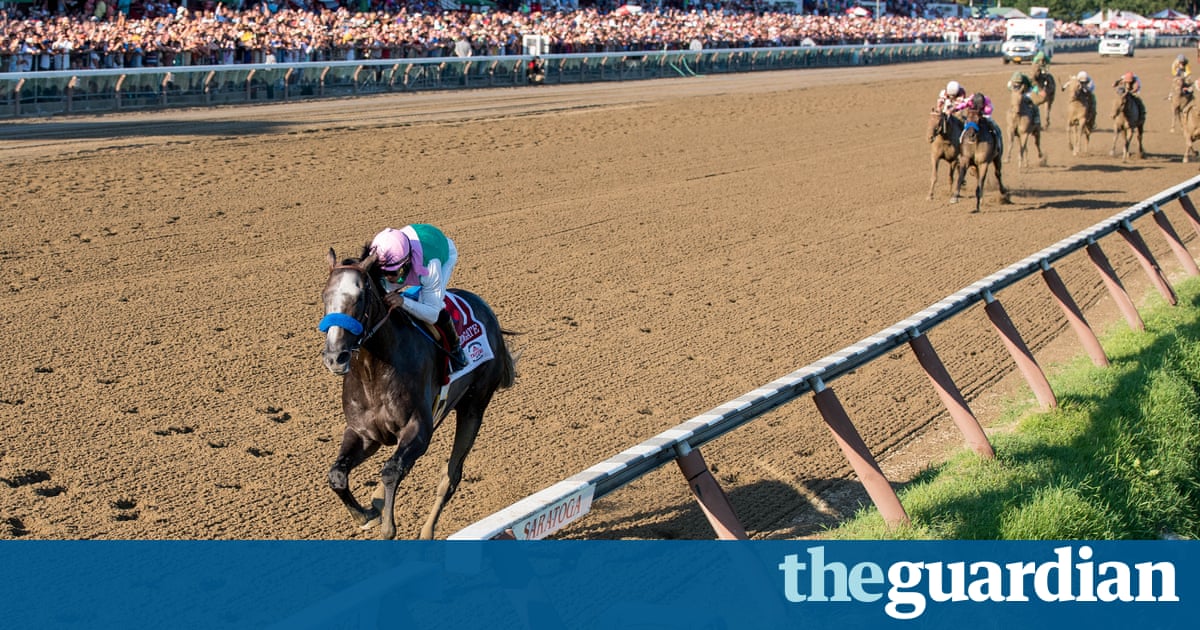 It was another torrid summer. During southern Californias Del Mar meet, which ran from July through September, 17 horses were died during training of a morning or racing of an afternoon. On the other side of the country, 10 ponies died during train or racing during Saratogas 40 -day meet in New York. This follows a similar scenario in 2014, when both tracks suffered double-digit fatalities.
Criticism has been harsh and intense. At Del Mar, as the number of deaths grew, protesters picketed the entrance to the way, carrying placards with mottoes like Racing to the Grave and Raced to Death at Del Mar. Tensions spilled over at an August California Horse Racing Board meeting, when one animal rights advocate after another publicly denounced the deaths, some of them calling for the immediate closure of the track.
What attains these figures so glaring is that they operate counter to an overall decline in fatal race-day traumata. Between 2014 and 2015, fatalities lessened by 14%, with the 2015 national average standing at 1.62 fatalities per 1,000 starts. At Del Mar and Saratoga this year, fatality rates were 2.42 and 1.81 per 1,000 starts respectively.
That both racecourses have taken a number of important step in recent years to reduce fatalities has caused further soul-searching. Officials have sought accreditation with the National Thoroughbred Racing Associations Safety& Integrity Alliance, for one, and have stiffened pre-race examination procedures. But as two of the nations highest profile fulfills continue to tribunal all the wrong kind of attention, the need for answers is becoming critical.
***
The problem is, these answers arent always easy to come by. At a Jockey Club Welfare and Safety of the Racehorse summit meeting only a couple of years ago, Dr Lisa Hanelt, a veterinarian at the Finger Lakes Racetrack in New York, ticked off a laundry list of possible variables behind any one racehorse fatality: how every racetrack is different, predisposing horses to slightly different injuries. How horses pitted into races above their class can uncover them to heightened duress during a race. And how ponies trained for too many consecutive months can exacerbate physical wear and tear.
Over the years, a variety of track officials and organizations have collected catastrophic-injury data to better understand these causes. The most extensive database is in California, where a record of racehorse deaths has been maintained since 1990. From this database, Dr Rick Arthur, the CHRBs equine medical director, has found that between 85% and 90% of all fatal musculoskeletal injuries have pre-existing pathology at the site of the fatal injury.
Which leads to the use and misuse of drugs in the athletic, and the potential for medications to mask potentially catastrophic traumata. Jeff Blea, a racetrack veterinarian in southern California who worked and addressed ponies at Del Mar this summer, believes that the tougher medications rules implemented in California over the past few years make it unlikely that the misuse of medications played a factor contributing to any of the fatalities.
Its not the drug, even though its the lightning rod, he said. The lines have been pushed so far back, its actually now a better mechanism for the welfare of the pony. Still, for many others, the issue of drugs is a hard one to dismiss.
A Guardian investigation earlier this year found that intra-articular corticosteroids continue to be misused by some within the industry, despite significant efforts to curb their prevalence. This past weekend alone, Hall of Fame jockey Chris McCarron spoke at a Thoroughbred Club of America event about the multitude of reasons why fatal breakdowns happen, went on to say that the number one reason is discretion: what to do with a pony thats infirm, what to do with a horse that needs rest instead of therapy.
As the cache of information on fatalities keeps growing, experts have been able to identify types of horses at greater risk of fatal injury. At a 2011 Jockey Club Round Table Conference, resulting veterinarian Dr Tim Parkin identified eight different factors associated with an increased risk of catastrophic lower leg fracture during a race. These factors include horses that have not raced in the past 15 -3 0 days, horses that had their first start in the last nine months, and ponies with numerous starts in the past one to six months. Thirteen of the 21 horses fatally injured at Aqueduct during the fall and winter of 2011 and 2012 had six or more of these factors present.
So, are there any identifiable tendencies among the fatalities this summer at Del Mar and Saratoga? It should be noted that not all of the horses fatally injured during a race suffered lower limb fractures. But using the eight factors identified by Parkin, one of the six horses fatally injured during racing at Saratoga had six or more of the risk factors present. Of the 7 ponies fatally injured at Del Mar during a race , none had six or more of the risk factors present.
Weve looked at the facts, and there is no tendency there, said the CHRB executive director, Rick Baedeker. The only one that is identifiable is that a number of ponies, I think it was six, had significant gaps in developing during the last 12 or 18 months. In a sense, thats helpful, because we can address that.
Using necropsy, veterinary, training and race records, a review panel in New York is working on a report similar to the one put together in response to the fatalities that occurred during the summer of 2014. The latest report is expected out soon. In California, the necropsy findings are similarly unavailable as yet.
During the wait for these results here in California, criticism among many trainers, jockeys, owneds and exert riders has circled the Del Mar racetrack surface, with fingers pointed at the racetracks consistency and moisture levels components integral to a safe racing surface. And they feel that the sheer volume of ponies training and racing on the way during the course of its short gratify had recently magnified this problem.
Hovering in the background is Del Mars switch last year from a synthetic surface back to dirt a statistically more dangerous surface than a synthetic one. According to Jockey Club findings, between 2009 -2 015, 1.22 ponies per 1000 starts were fatally injured in races on a synthetic surface. Switch that to dirt, and 2.04 ponies per 1,000 starts were fatally injured.
This summer, as the number of fatalities began to rise, management at both venues recruited Dr Mick Peterson an expert in the fields of racetrack surfaces to evaluate the quality of each track.
Both racecourses participate in the Maintenance Quality System program, where a series of daily measurings moisture, cushion depth and other measures of track consistency, in addition to surface composition and mechanical testing are taken and added to an online database. Peterson and racetrack officials correlated this data with what information was available about the fatalities, and scrutinized the combined findings for patterns or anomalies.
The challenge with this is that nothing stood out, told Peterson, who did additional soil testing at both tracks. The success is, as soon as there were topics, we knew exactly what we had to do, and wanted to do.
With no concrete answers emerging, some are theorizing. Jim Cassidy, the president of California Thoroughbred Trainers, believes that boutique meets like Saratoga and Del Mar short high-profile gratifies with large handbags that are extremely popular with proprietors and race-goers can create a perfect cyclone, where all the variables that factor into any one fatal trauma are exacerbated by the hyper-competitive nature of the racing product.
I know some people who feel as though they have no choice, and in that situation its sad, said Cassidy, about trainers who he feels are pressured by owners to run horses that perhaps shouldnt vie, and commonly wouldnt. In those cases, owners need to realize those horses arent going to get them anything anyway, simply a place in the starting gate.
Before the end of the fulfill at Del Mar, the CHRB held individual private stakeholder sessions with trainers, jockeys, veterinarians, and way management, for their thoughts on the high number of fatalities the high number of fatalities, as well as to propose possible fixings to the problem.
Concern for the industry is shared by all, told Baedeker. I think people realize that something needs to be done. Thats likely the easy proportion. What to do is the challenge.
Next year, Del Mar will open a week early to give horses extra time to acclimatize to the surface, and track management slightly more wriggle room to get things right. Other ideas floated at the stakeholder meetings included greater medical scrutiny of horses returning to the track after a significant lay-off. A CHRB member recently called for heightened trainer profiling.
Many are supportive of these possible changes, however small. At the same hour, however, others push for more drastic changes to be made if the industry is to repair its injury public image a tension that mirrors the industrys divided approach to the far from unrelated issue of narcotic reform, where some advocate for the continued incremental state-by-state implementation of the National Uniform Medication Program, while others push for legislation like the Barr-Tonko bill that would enact wholesale drug reform at the federal level.
If major changes arent stimulated, racing will be fazed out. Its not a question of if, its when, said Dan Blacker, a young trainer based in southern California. Blacker proposed a number of short-term and long-term answers, from mandatory x-rays of horses joints before they operate, to the closure of racetracks as develop centers and an increase in private training facilities, significantly lessening the general wear and tear racetracks suffer.
This is an opportunity to change things for the better, Blacker told. Were at a turning point in California whereby were able to be leaders on this subject.
Read more: www.theguardian.com